Aircraft EXIT Signs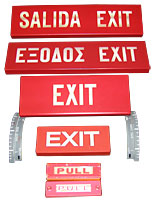 Emergency Signs, Cockpit Pointer/Markers
These self-powered illuminated signs are designed for use in the latest aircraft. Safe and reliable, they are characterized by the complete absence of any power supply, batteries or electrical connections.
The Signs, Markets/Pointers are designed per FAA and customer specific requirements. Being entirely self-powered, these aircraft emergency exit signs can be fitted without reference to the aircraft power supply. No maintenance is required during their designated life.
If you have any questions about SDI's products, contact us at
714-258-2811
or via e-mail at
lynnt@symbolicdisplays.com
.